Synopsis
*Note: Please excuse the error in the title… I was probably half-asleep when I made it, tbh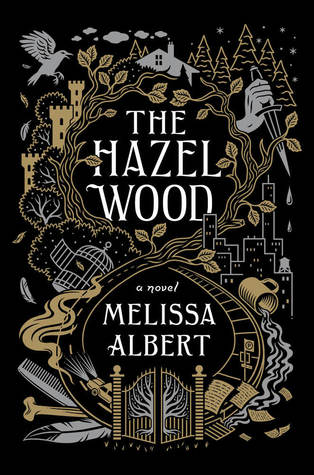 Seventeen-year-old Alice and her mother have spent most of Alice's life on the road, always a step ahead of the uncanny bad luck biting at their heels. But when Alice's grandmother, the reclusive author of a cult-classic book of pitch-dark fairy tales, dies alone on her estate, the Hazel Wood, Alice learns how bad her luck can really get: her mother is stolen away―by a figure who claims to come from the Hinterland, the cruel supernatural world where her grandmother's stories are set. Alice's only lead is the message her mother left behind: "Stay away from the Hazel Wood."

Alice has long steered clear of her grandmother's cultish fans. But now she has no choice but to ally with classmate Ellery Finch, a Hinterland superfan who may have his own reasons for wanting to help her. To retrieve her mother, Alice must venture first to the Hazel Wood, then into the world where her grandmother's tales began―and where she might find out how her own story went so wrong.
Rating: 4 stars.
Warning: mild spoilers!
"When Alice was born, her eyes were black from end to end, and the midwife didn't stay long enough to wash her."
I found this to be a lush, captivating read, with flawed (and I mean VERY FLAWED) main characters and a brilliantly woven dark fantasy world. Judging from the ratings and reviews, however, I believe I'm in the minority? Apparently, this book was heavily publicized, but I wasn't aware of the hype at all, which may have led me to judge the book more favorably when I finished reading it.
(Because of course, there's nothing more miserable than having an incredibly-hyped read crush all of a bookworm's expectations to dirt.)
(Also, oh my lord, that cover is GORGEOUS. I am in love. *endless heart eyes*)
First off, the author's portrayal of the Hinterlands was incredibly mesmerizing, and I found myself completely sucked into the story. I have an enormous soft spot for fairy tale retellings, and I'm honestly in awe of the author's imagination because WOW, that was creative. Growing up watching Disney classics like Cinderella and Sleeping Beauty, it's easy for me to forget that traditional fairy tales are very, very violent and more than a little disturbing. In Albert's book, at least, these fairy tales go even further beyond the bloodiness of the original Grimm's Fairytales. They're honestly more like horror stories than anything you'd read to children at bedtime (unless your goal is to give them nightmares).
Albert's writing style may be a hit-or-miss for some readers, but it is TOTALLY right down my alley. You can't deny that she definitely has talent—her writing flows beautifully, with that deliciously dark, twisted fantasy vibe I that I can't get enough of. I personally tore through the book in the matter of a day—I was so engrossed in the creepy little world the author had created, that I couldn't bring myself to put it down for more than thirty minutes.
One of my favorite parts of the story was definitely the short "Hinterland" fairy tales, which sent shivers down my spine. They were all delightfully disturbing (and I would 1000% buy that book if it ever came out).
"Everyone is supposed to be a combination of nature and nurture, their true selves shaped by years of friends and fights and parents and dreams and things you did too young and things you overheard that you shouldn't have and secrets you kept or couldn't and regrets and victories and quiet prides, all the packed-together detritus that becomes what you call your life." 
Now, let me just say: FINCH. Poor little Finch. He was such a sweetheart, and probably my favorite character in the book? (I just have this enormous soft spot for delicate little boys who just want to be loved.) Of course, there was definitely something immediately shady about his character. Throughout the story, you can tell that the author was really, really trying to emphasize that there was something "off" about him, a puppy-like eagerness that didn't quite sit right with his true motives.
I'll be honest: the protagonist, Alice, who read more like an antiheroine, is incredibly difficult to empathize with, which, I think, is the main problem many readers had. She's not the "outwardly scathing and angry but secretly has a heart of liquid gold" protagonist that I see so often in YA novels—no, she's pretty much completely unlikeable. She's selfish, rude, arrogant, and completely disregards the struggles of others—which is the total opposite of what YA readers like me usually look for in a relatable heroine. (One of many notable instances being when she basically tramples all over another character's explanation of racial profiling.)
With all this unlikability, it's probably crazy that I found myself… understanding her? Okay, perhaps not exactly excusing her actions, but rather acknowledging where she came from. Alice isn't this cold-hearted monster that hates everyone and everything: she has her own insecurities, and she's driven by a desperate desire to unravel the mystery of the tragedies that seem to constantly follow her.*
*However, I am definitely to more discussion regarding her character, and I would love to hear your thoughts on how she was portrayed/how she resonated with other readers!
On the flip side, I was left feeling rather unsatisfied by the ending. I wanted more closure on the relationships between the main characters, and on Alice's adjustment to normal life. I also felt somewhat disappointed that the one "meaningful" relationship Alice developed—other than her mother, of course—never ended up going anywhere. (Not in terms of romance, per se, just in terms of finding a close friend or ally.)
Overall, I would recommend that you pick up The Hazel Wood if you love fairy tales with a twist. (A very disturbing twist, at that.) It may not be for everyone, but hey, you won't know until you try out the book for yourself!
Thank you to Flatiron Books for providing me with an ARC via Netgalley in exchange for an honest review!
What are your opinions on "The Hazel Wood" (and on Alice)? Did you find any elements in that book problematic/questionable, or were you completely engrossed in the story? Are unlikeable protagonists an immediate turn-off for you?
Happy reading,